Our Science
Biotheryx's PRODEGY platform: powering the next generation of targeted protein degradation
Our Science ++ Overview
Our founders are pioneers in the field of protein degradation, having led the discovery and development of the first generation degraders – the ImmunoModulatory imide Drugs (IMiDs) Revlimid (lenalidomide) and Pomalyst (pomalidomide).
Building on this foundation, our scientists developed the PRODEGY platform to leverage our body's natural protein degradation machinery and redirect it towards proteins implicated in a wide range of diseases.
Our Science ++ The Ubiquitin-Proteasome System (UPS)
The natural process of protein degradation
All cells in our bodies are equipped with a highly efficient protein homeostasis machinery called the Ubiquitin Proteasome System or UPS that is designed to degrade certain proteins or substrates. This natural process is illustrated below with the example of protein degradation enabled by an E3 ligase called Cereblon.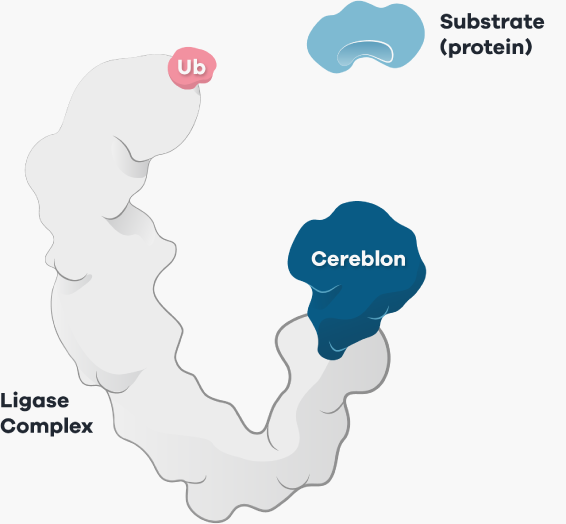 Our Science ++ PRODEGY Platform for Targeted Protein Degradation
Biotheryx is leveraging our body's natural protein homeostasis machinery and directing it towards proteins of our choice that would not otherwise naturally be degraded. This represents a highly promising approach for a wide range of diseases driven by aberrant proteins.
Below are 3 molecular approaches to degradation enabled by our PRODEGY platform.
Molecular Glues for Neosubstrates
Molecular glues enable cereblon to bind and degrade a range of neosubstrates without binding pockets – expanding the universe of "druggable" proteins from the 15% that are druggable today, and overcoming many of the limitations of conventional inhibitor-based approaches.
1 of 4
Molecular glue binds cereblon and induces a conformational change.
2 of 4
The conformational change enables interaction between cereblon and the neosubstrate. Biotheryx's molecular glues are designed to precisely optimize this conformational change.
3 of 4
Optimal conformational change results in the polyubiquitination of the neosubstrate of interest, "tagging" it for degradation by the UPS.
4 of 4
The neosubstrate is then degraded by the UPS.
MECHANISM OF ACTION
Bifunctional degraders for target proteins
Bifunctional degraders are created by linking a Cereblon binder to a target ligand. This enables degradation of a target protein which has a binding pocket but which may be insufficiently drugged with conventional inhibitor-based approaches (e.g., due to development of resistance).
Biotheryx designs bifunctional degraders that can target proteins with binding pockets that develop resistance to conventional technologies
1 of 3
Bifunctional degraders bind the target protein to Cereblon, bringing the target protein into proximity for ubiquitination.
2 of 3
Biotheryx designs bifunctional degraders that optimize the orientation of the target protein to enable efficient ubiquitination and degradation.
3 of 3
The target protein is degraded by the UPS.
MECHANISM OF ACTION
Hybrid Degraders
Using our PRODEGY platform, we can design bifunctional degraders that can degrade both neosubstrates and proteins with binding pockets using the same molecule. These molecules are called hybrid degraders.
1 of 3
Hybrid degraders function as both molecular glues and bifunctional degraders providing greater flexibility in degrading proteins and neosubstrates using a single molecule.
2 of 3
The target protein and neosubstrate are ubiquitinated.
3 of 3
Both proteins are degraded by proteasome.
MECHANISM OF ACTION
Our Science ++ Publications & Presentations